SALE now on at Halloween Horror Shop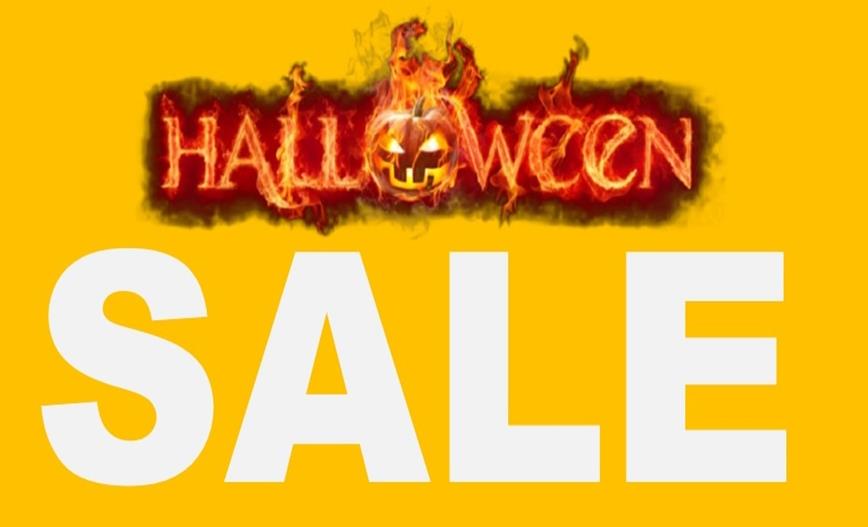 Have you realised there's only a couple of months left until Halloween! Where has this year gone?!
So to get everyone excited on that big countdown to our favourite time of year, we have a huge sale now on at Halloween Horror Shop! Prices have been slashed across our website, and in this blog, we want to take a look at just some of the savings you can find on our website now!
So if you're in the mood for some early Halloween preparations, you've come to the right place! Check out some of these amazing products your can get your hands on now and save a killing at the same time!...
Halloween Inflatables are a great way to add something special to the outside of your home this Halloween. All the prices have been cut in this collection, giving you even more reason to add one of these spook-tacular decorations to your home and garden this year.
Just like our Giant Mummy Inflatable! At a height of 2.4m this will be a real focal point of your Halloween display. This decoration is fully self-inflating, and with a built in LED light, it can be enjoyed in both the day and night!
Another of our fantastic Inflatables is our Pumpkin with Ghosts Inflatable which right now you can grab for half price! This will create the perfect atmosphere for your Halloween party, and again due to its built in lights, will look great at night time.
Both of these inflatables can be enjoyed by family and guests of all ages and are great for kids parties and welcoming trick or treaters to your home.

How about some spooky lighting to brighten up your home this Halloween?
There are lots of savings to be found in these products too, just head to our Halloween Lighting section!
Lights such as our LED String Lights in either Red or Green are perfect for illuminating your Halloween displays in great traditional Halloween colours. These types of lights are also fantastic for placing around windows and doorways and are suitable for both inside and outside the home!


Or for a unique lighting display, why not try our Halloween Spooky Characters Projector? Perfect for parties! This is great for easily adding interest to walls around the home! It is suitable for both indoors and out so comes with a stake to be able to place in the ground outdoors.
We have some amazing life-like Halloween Props in our big sale, perfect for making a spooky impression when welcoming family and visitors to your home! These are also fantastic for adding to a party venue!
Add a touch of gore to your décor with our zombie themed props! Just like our Hanging Zombie, Crawling Zombie Torso, Gruesome Sitting Ghoul and our Spooky Zombie Bride. These are sure to be the talking point of any seasonal event, and with all of them having built in red LED eyes, they'll be just as spooky and night time as they are in the day!

Or how about adding a haunted house vibe with this happy couple?! Our Spinning Head Bride and Groom are a perfect match, and will certainly give your guests a fright this Halloween! As their head spins your guests will surely get a scare as they reveal the skeleton on the other side!
Or what's scarier than the grim reaper himself?
These freaky skeleton decorations are an absolute steal in our sale and will surely scare the life out of your family and friends! Here we have our Animated Hanging Grim Reaper and our Shaking Grim Reaper in Cage decorations. Both are sound activated and make eerie noises when in action!

You can find lots of other fantastic savings on our Halloween Horror Shop website right now, so be sure to head over and browse the rest of our brilliant Halloween decorations. Our favourite time of year will be here in no time at all, so don't delay, make use of our fantastic savings online today!